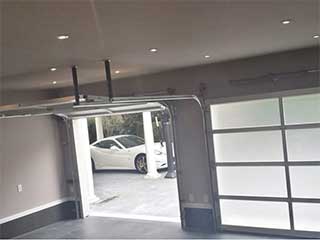 The regular service appointments that our team offers are an effective way to keep your garage door system in a fully functional condition. We'll make sure its mechanical and electrical parts aren't about to malfunction and apply several adjustments and repairs to reduce the system's working stress. Getting this done on a regular basis is going to have tremendous results as far as system longevity goes.
Several Different Focus Points
There are a lot of tasks that come with our maintenance routine. Our team will inspect the tracks for rust and bending and straighten and realign them accordingly. We'll also check the rollers and lubricate them to keep their performance smooth and silent. If some of them need to be replaced, you can count on us to do it on the spot. As for other parts, like the panels and the cables, we'll make sure their condition is optimal as well, and apply the right fix if we discover evidence of any damage.
The Motorized Unit
Your opener won't be neglected, of course. We'll make sure both its circuit board and motor gear are in great shape and are able to function properly. Then we'll move on to the drive system and examine it and the trolley. Finally, we'll test the safety sensors, in order to make sure that the door will properly reverse if something or someone gets in its way.
The Most Crucial Parts
Your garage door springs require more attention than other components, as they are under a great deal of stress on a regular basis, and can be extremely dangerous when they break. Our team will check them for deformed coils, lubricate them to keep their performance smooth and silent, and perform spring adjustment if it is required so that the door doesn't get unbalanced.
Call Us Today
If you want your system to be looked after by experts, then our team at Garage Door Repair Ocoee is at your service. Don't hesitate to reach out to us and schedule a maintenance appointment.
Want more? Let us take care of:
Torsion Spring Adjustment
Genie Garage Door Openers
Garage Door Off Track Repair
Roll up Garage Door Maintenance